YAHO~! After the grand sendoffs by Guang, Liwen, Jean, Kah Tiong, Ah Teck, Eating and my parents, I've finally made it to Japan!
All was great during the trip except they didn't have Super Mario for me to play but I caught Nodame Cantabile and 2 eps of The Big Bang Theory on flight.
Japan's turning spring from winter at this time. I didn't think it would be any problem for me since I walked the streets of Tokyo some 7 years ago at 8 degree Celsius in my T-shirt, red berms (yes, red) and sandals without shivering too much. But lo and behold! Landed at 7 degrees Celsius and I was thinking "what the fuck happened 7 years ago?" It IS cold! So my original plan of roaming the neighbourhood of my dorm took a turn and I set up to be an otaku-boy the rest of the day.
So as I arrived, a kind old man took me to my dorm in the school van. We stopped in front of a building and he looked at my keys wanting to take me to my room. So I followed him to the building at the back. He made no attempt to check the rooms on the first floor (my room's Block 4 Room 106) and he went straight up to the 2nd floor so I had to lug my laptop bag, backpack and a 20.6kg luggage up the flight of steps thinking, "what the hell, why 2nd floor? Luckily I don't have to bring my luggage up and down everyday". But as I reached the 2nd floor, I saw all the rooms labelled 2xx. FMD! (fuck my day). I knew I had to bring the luggage back down. So I brought it down again and guess what? We were at Block 3. So where's Block 4? BINGO! It was the one right in front where we stopped in the beginning! But he's a nice old man, so I'm not complaining… too much.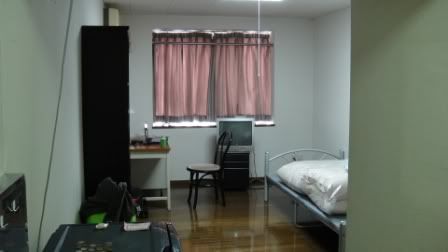 So Operation:Otaku-boy begins! First thing is to go online! YEAH BABY!
No ethernet cables present.
NO PROBLEM! Let's try wireless!
No wireless service available. FMD. So people, BRING YOUR OWN ETHERNET CABLE if you have one. I do but… So anyway, I took the map the lady at the school gave me and started looking, "where can I find an ethernet cable?" I'll try the legendary 100 yen shop – Daiso.
So Operation:Otaku-boy failed. I headed out to look for Daiso and it wasn't too difficult to locate. So I went in and hunted high and low and finally found ONE solitary 2m ethernet cable left! The rest were 1m long which I don't think is long enough for my use. I was laughing to myself "HOHOHO! 100 yen for a 2m ethernet cable! But wait! It can't be that the 1m cable also costs 100 yen. Who would wanna get the 1m one then?" I took a close look at the packet and saw the print – 210 yen after taxes. Why is it called a 100 yen shop? FMD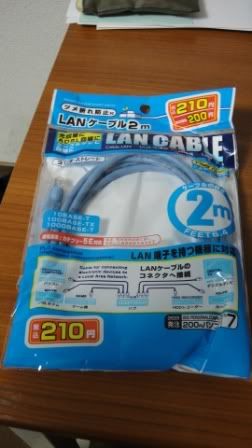 So alright, I started to head home and on the way decided to get a warm drink to beat the cold. Great! A Boss coffee vending machine. I didn't believe they only have coffee so I took a look and YES! They have one warm tea in the machine. Bought it and woo hoo~ I am so NOT going to get it again. It's got this odd nutty taste that I can't really enjoy, though the warmth of the bottle really got me high.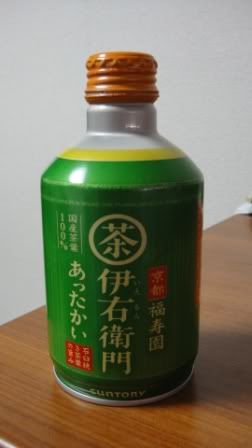 I walked and walked and went past my place so I had to walk back but that ain't so bad. I got back to my room and the heater was working great, so i removed my jacket and socks. Bad idea. As I stepped on the floor, I immediately put my socks back on. Way too cold. I headed to my desk all so excited about going online then my heater rumbled and I turned it off. As I'm blogging now, I'm beginning to feel the cold again. Oh wells, there's gonna be a test tomorrow, on my birthday! Hope it's a good omen. Will update again!