Nope, I didn't confess my love to Miss Onigiri at Mount. Fuji. They're all unrelated events.
Came back from a movie. 告白. The plan was to finish the book before catching the movie but since it started screening in June, the last screening is due tomorrow and ユーティン's got バイト, so we decided to catch it today. I have been trying to finish as much of the book as I could but I'm still left with 22 pages.
Bad news is that the Men's Day, which used to be on Thursday has been moved to Monday since April. No ¥1000 ticket for us. The late show discount begins after 8pm. 告白's only showing is at 6.30pm. Again, no luck at getting a ¥1000 ticket. Today's the 19th. Discount on every 20th. Again, no ¥1000 ticket.
We're desperately trying not to pay the original ¥1800 ticket so we tried the high school student discount, which we're not but tried our luck by showing our Yamasa student card and YES! We got the tickets at ¥1500, plus ユーティン paying an additional ¥100 for the member's card, we only paid ¥1300 each! That's like a discount of USD$6 or SGD$8.

This is old news but yes, I'd still like to say I conquered Mount. Fuji, the highest peak in Japan on 6th July 2010!
According to Eri, some website says it takes approximately 5 hours to climb from 五合目 to reach the summit and 3 hours to return. Well, we did take 3 hours to return but it took us 7 hours to reach the top. Climbing was tiring but coming back down was the killer. The pressure caused some headaches but it wasn't that bad until you squat down on the return.
Eri managed to fulfill her childhood wish of urinating at the top of Mount. Fuji. I'd post a picture if I could but someone might report this as a pornographic site. Then again, common sense would tell you that I wasn't even allowed to be around her while she peed, much less snap a picture.

Summer Festival at Nishio city. Thanks to the invitation by 小友美, we had a great time dancing and a good experience before the big one in August. If I could stay in Japan, I'd join a Yosakoi team and learn all the dance. Way too fun and cool!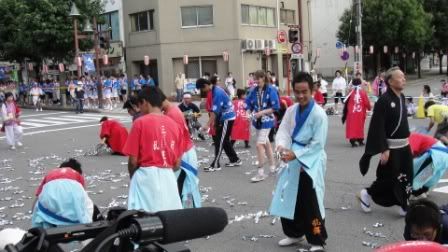 This was the actual Yosakoi performance day under team Yamasa. Look at what we're doing! They actually counted down to the start of the event and BLAST! Confetti~! And immediately following that, we all had to pick it up before the dance began. DAMN WEIRD and funny. HAHAHA… I've never seen anything like that before.

The actual dance! I handed my camera to 河口先生 but I think she handed it to Audrey's boyfriend and he was standing to the side which explains why all the pictures are from an angle. But am still thankful for the pictures.


Following our team, there came a team of ギャル. Most wore heavy make-up and dyed blond hair and all of them didn't seem very interested in dancing. Not much strength or energy was put into the dancing. Audrey and I came up with the theory that they must've had been 不良 and some saviour decided to turn their lives around by making them do Yosakoi. This particular girl with the おにぎり hairstyle caught my eye because while everyone was moving their head, she was trying to keep it as still as possible, probably afraid that the rice ball on her head was gonna topple. But at the end of it all, they still completed the dance and it was applaudable.