By this time, I believe all junior high school 3rd graders would have already had their official graduation ceremonies and are either busy with entrance examinations or comfortably sitting on a position in one of their desired high schools.
I began my ALT experience much later than the JET participants of 2010. JET participants should have started teaching in August while I began my ALT journey in November (actually late October but that was a stand-in for a hospitalised ALT for 4 days in another city). Many ALTs would be able to tell you that you don't get to see all your students every week. At least I don't. One of the reasons being that I commute to 2 different schools every week. From Monday~Wednesday I'll be in one school and from Thursday~Friday I'll be at a second school. In both schools, there are more 1st and 2nd grader classes than 3rd graders because what they do is they typically compress the students into fewer classes as they move up, which means that I get to see 3rd graders less.
Both schools I teach at had their graduation ceremony two days ago (on Tuesday), which meant that I could only attend one but fortunately, I was able to attend the farewell party at the second school last Friday. A day before the graduation ceremony at the first school, some of my graduating students wrote me messages nicely bound between a self-made sleeve and I was really moved because I wasn't expecting anything since I've only been teaching for 4 months and of these 4 months, the number of times I teach at their classes is probably countable with my hands.

Front cover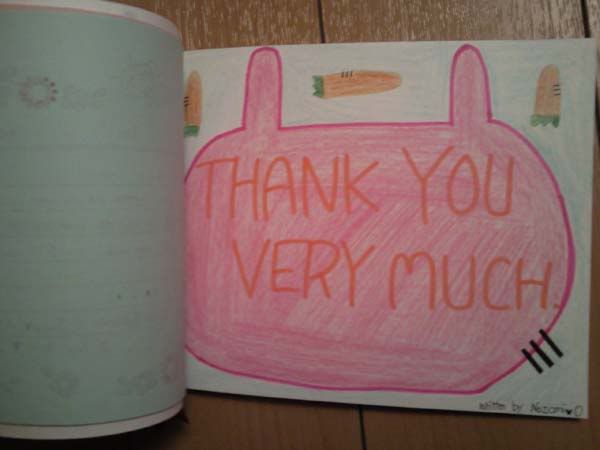 Back cover
Today, I stepped into the second school, took my seat, opened my drawer to retrieve textbooks and found this!

Front cover


Back cover
I also found a free sample highlighter with a highlighter-eraser which I found pretty amazing and I'll probably post a video of it next or some time later, but that's really not the main point. I have to say my students really made my life in school and in Japan wonderful. And that's an understatement.