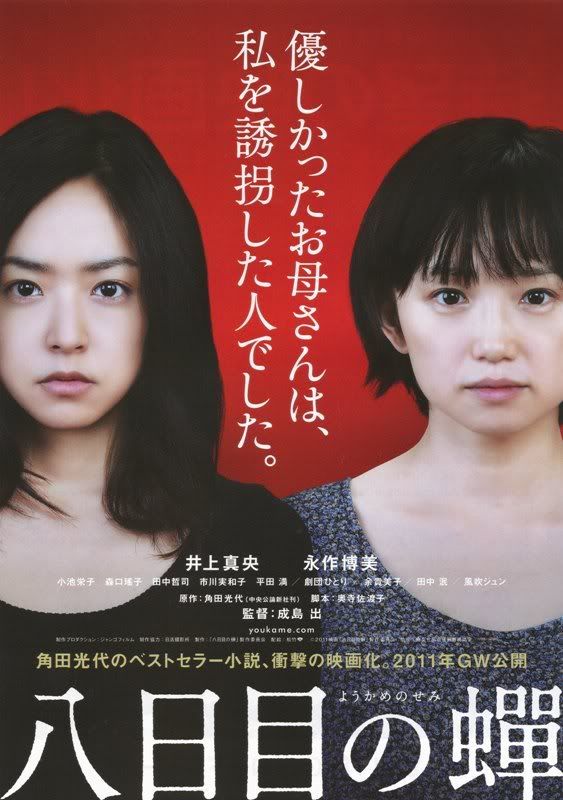 This is yet another late review since it's been off screen for some time now, but I just caught it recently on the flight back to Singapore on ANA and I'd like to say, this is one brilliant masterpiece. Unlike a lot of movies created for entertainment, this has got excellent literary value too. It's called 八日目の蝉 (Youkame no semi) or Rebirth in English.
The story is out of the ordinary yet real and with the excellent acting skills of 井上真央 (Inoue Mao), 永作博美 (Nagasaku Hiromi) and the more than stellar performance of the little girl who played 4-year-old Erina/Kaoru (FYI, they're the same person), this is a complete work of art.
Nagasaku plays Kiwako, the mistress of Inoue's father. She got pregnant but aborted it and ended up being unable to conceive anymore. She then abducts Inoue who plays Erina, when she was just an infant. Kiwako raised Erina up as her own daughter and calls her Kaoru instead. Until Erina was 4 years old, Kiwako went on the run with her who grew up thinking her name was Kaoru and that Kiwako was her mother.
For many years after being rescued, Erina resented her real parents and what happened in her life. When she was a university student, she herself got into an affair with another married man and got pregnant as well. What would be her decision about this new life in her after having lived her own?