I've been travelling to Tokyo a lot this past year but it's really not because I love Tokyo that much. The reasons for my travel aside, through my trips to Tokyo, I've tried taking the Shinkansen on unreserved seat tickets and reserved seat tickets as well as overnight buses.
Needless to say, overnight bus tickets are the cheapest at only a little over ¥5,000 each way from Nagoya to Shinjuku. But sometimes, I'd rather save the time and avoid looking like I just woke up by taking the Shinkansen. I don't fancy having my hair in a mess and my face having track lines courtesy of pillow cases or crumpled paper sheets placed on the seats when I arrive in Shinjuku. No. Walking along the busiest town in Tokyo with a pair of eyes that can barely open to the rays of the sun just doesn't float my boat.
So, I've taken the Shinkansen much more but of course, it costs about twice as much too, which is taking its toll on my already battered account statement. If you want to take the Shinkansen and be guaranteed a seat, yet you still want to get as much discount as you can on the tickets, 金券 is the way to go.
What is 金券?
金券 are shops selling all kinds of tickets at low prices. No, they are not black markets. They are legitimate ticket dealers. This is the shop I go to in Nagoya.
Some of these shops have the words 金券 spread gloriously on the shop front. Some are called チケットキング (Ticket King). This is 切手社 (Ticket Company). Every shop has a different variation of the names but as long as you see rows of glass showcases with tickets lined up in them, you can be sure it is one of these cheap ticket shops. The best part about this is, they do not just sell Shinkansen tickets. They also handle regular train tickets, monthly train tickets, movie tickets and basically most of any ticket you can think of. But I'm just going to talk about the Shinkansen tickets here.
When you purchase the ticket, you will receive one that allows you to go either way. I usually buy 2 (so that I can come back!) and on both tickets are printed Nagoya <-> Tokyo. This means that I can board from either station and alight at either station. I actually took a picture of the tickets but I've got no idea where the picture went. Anyhow, you cannot just use the ticket to get past the gates of course. You have to bring the ticket to the Shinkansen ticketing machine and insert it as shown below.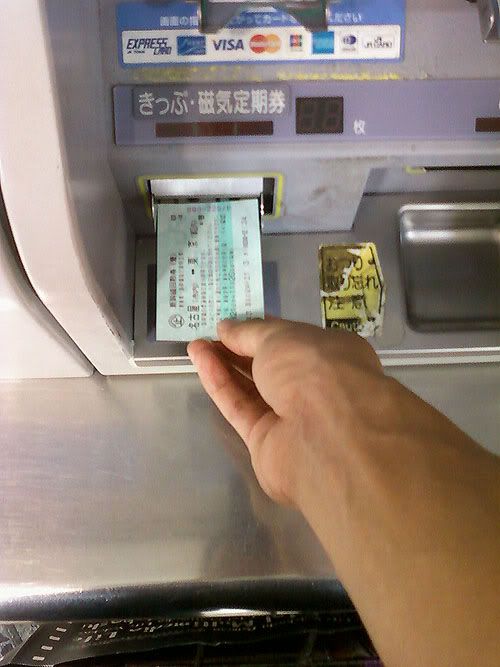 You can then follow the very simple instructions on the screen. Based on what I can remember, you'll be asked to select the number of people, the station you are boarding at, the station you are alighting at and the time you want to board the train. Upon completion of these selections, 2 tickets will be dispensed from the same place you inserted your ticket. One of which is the ticket you inserted (with a stamp on it) and the other is your boarding ticket.
To get past the gate, you have to insert both tickets at the same time.
Now, here's another information which I feel would be very useful. This ticket does not just take you to Tokyo main station. Upon arrival in Tokyo, if you are travelling to any station along the 山手線 (Yamanote Line), you do not need to purchase another ticket. This ticket can get you there. But if you are to travel to any other station outside the Yamanote Line, you can also just arrive at the desired station and hand your ticket to the staff at the gate. You will be asked to pay just ¥130 (the cheapest ticket) to exit.
It is the same when you return from any station other than the Yamanote Line. Purchase a ¥130 from the ticketing machines at the station to get past the gates. When you get to the Tokyo main station and got your Shinkansen ticket, insert all three tickets (the ¥130 ticket, the 金券 ticket and the Shinkansen seat ticket) to get to the Shinkansen boarding platform.
This could save you a couple of thousand yens.