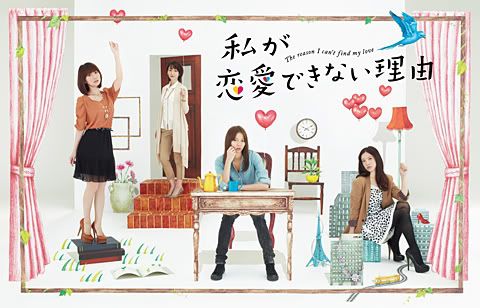 New drama starring 香里奈(Karina), 吉高由里子(Yoshitaka Yuriko) and AKB48 member 大島優子(Oshima Yuko).
Karina, Yoshitaka and Oshima play former schoolmates with Karina being the most senior member and Oshima the youngest. Karina takes the role of a tomboy-ish character who works with a lighting company and goes butt slapping with her other male colleagues in a field dominated by men. Yoshitaka is job-hunting while doing part-time as a hostess at a cabaret bar and Oshima works as a dispatch at a regular office. The 3 girls moved in together so as to have company while at the same time save on rent and as the title suggests, the story will probably revolve around their love lives.
The show only started airing on Monday and towards the end of the 1st episode, Karina decided to confess to the guy whom she had a crush on for many years, Yoshitaka decided to believe that there's someone out there for her and Oshima's crush at her office proposed to sleep with her. How it turns out, well, if you're interested, do catch it. Once again, I'm not going to tell you that you can download it from D-Addicts.
I know it's more like a drama targeted at female viewers but I guess I'll try to catch the rest of it since it seems pretty interesting and Japanese dramas are usually only around 12 episodes long.