The rays of the afternoon sun showered onto the bespectacled crowd of otakus keeping the largest gathering of their kind warm during this coldest season of the year. As we stepped out of the train at Akihabara station, there was no attempt of concealment that we've arrived at the parallel world of anime-dom. What greeted us at the station platform was a giant screen of anime commercial, one after another.
We left the platform, went past the gate and out the station into the middle of a surprisingly empty quadrangle where 2 girls in some unrecognisable Japanese costume were handing out leaflets. I deliberately walked near one of them and got handed one of those leaflets she was handing out and learnt that they are a relatively new idol group called 桜組 (Sakura-gumi), which means cherry blossom group, and that they were going to have a live performance at a theatre around the area. The first image that came to mind was that of AKB48 and I was interested in how it'd be like to be at one of these performances. But of course, at that point in time, the more important thing was to take a picture with her. And so I did.
As night fell, we headed to the theatre which looked like a makeshift container decorated with neon lightings with a queue of what can only be described as the epitome of otaku-ism forming a line outside the entrance in the middle of winter.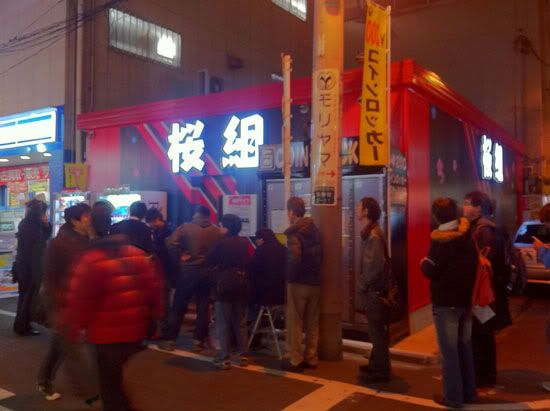 Needless to say, we joined the queue and tried our best to not blend into the crowd. But I suspect it had been a failure.
I talked to one of the staff holding a placard outside the "theatre" (which I can't help but use quotation marks now) and learnt that the first generation Sakura-gumi members were all from China. According to him, they were really popular, professional in singing and dancing and very beautiful. I then asked what seemed to be the logical next question, "what about the current members?" He hesitated to answer. He tilted his head a little and cringed all his face muscles together like it was a difficult question to answer.
The current second-generation members are all Japanese and from what I could gather, he doesn't seem to think too well of them relative to the first-generation members.
With an image in mind, we stepped into the container and I got a surprise that it was more rundown and poorly designed than I had expected. The stage flooring was laid with aluminium-like material and the area was barely able to hold the 50 to 60 capacity crowd, most of whom had to stand at the back. Why the stage wall design was of Thailand's flag, I have no idea either.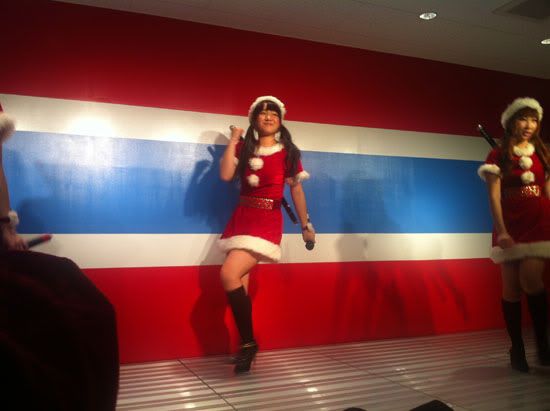 The sound system wasn't excellent but I wasn't too particular about that since I didn't expect too much from a container box but what gave me a bigger surprise was the quality of the performance. It was apparent that these members weren't very seasoned performers with a number of occasions of pure silence during their emcee-ing, whispered discussions on what to do next on the stage, wrong dance steps, off-pitched singing, shivering hands and overly reserved movements during dancing. One of the worst moments was when they were playing あっち向いてホイ (Acchi muite hoi), one of the members tried her hand at "match-fixing" by discussing with the participant on what to do. I do think it's really sweet that she wants to let the little girl win but the downside of it was, she wasn't clear on the rules of the game and it restarted again and again with people trying to explain the rules to her while the rest of us watched.
If I had to make an analogy of that, it seemed more like a Children's Day performance held in elementary and junior high schools. The girl with whom I took the above picture was clearly more experienced with a relatively more professional handling on the stage during the moments of silence and during the performances but such performances are ultimately team performances.
However, when I think about it, it's really admirable that these girls aged 13-20 are trying to do something with their life. While I doubt I would go catch their performances again, I hope that they will be able to achieve what they set out to do and sincerely wish them all the best. Afterall, poor performances do not put me off. People who don't try do.
If you're interested to find out more about them and show them your support, visit their website here, especially for people who love ninjas because they are a ninja-themed idol group.