Megmilk Snow Brand (雪印メグミルク) is celebrating its 50th anniversary by holding an event that invites people from all across Japan to help create a character for Yukikotan (ゆきこたん). Sounds totally like a Japanese-wannabe Singaporean doesn't it? Yukiko Tan. It's actually a nickname probably made popular by Nakagawa Shoko (中川翔子), affectionately known as Shoko Tan. I mean Shokotan.
Among the 7000 entries made, 6 have been selected as finalists. Looking at the submissions, I thought you would expect nothing less from Japanese people. I wonder if it's in their genes to have the talent in drawing.
I happened to run into the event at Shinjuku station surrounded by a mob of otakus armed with their ginormous SLR cameras snapping away at the finalists. That was at around 3pm on my way to Korean class. After class at 5pm, I went for a round of drinks with a fellow classmate at the beer garden next to the school before heading home. By the time I got to Shinjuku station again, it was 6pm, and the event was still on. If you're wondering why it drew that much interest, I believe it's not because of the anime drawings but because of the human-form of the drawings.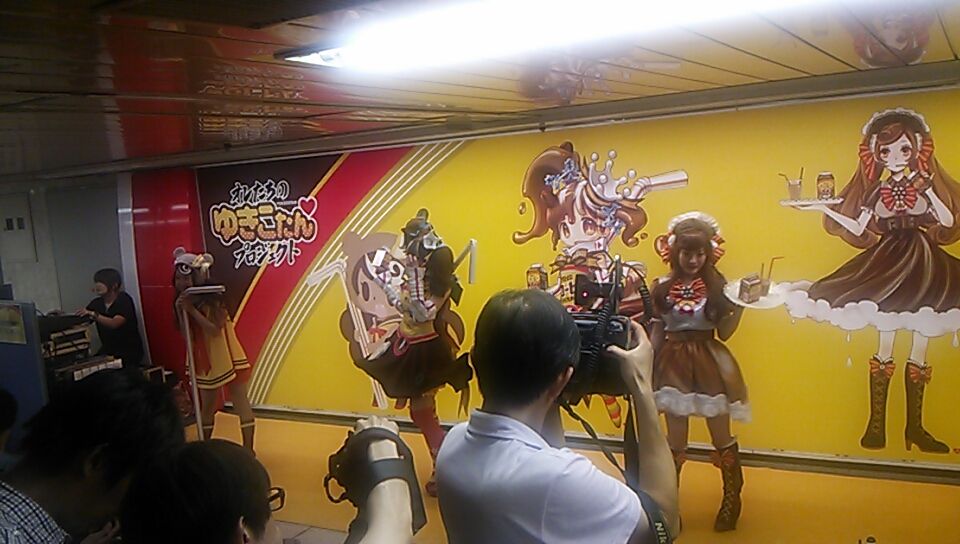 And one of them is sharing a pack of coffee with a fan in a glass case, which the host calls "二人だけの空間" (loosely "a space for the two of them"). Not surprising for an otaku-targeted event. Apparently the people take turns to go in and share drinks with these characters. Thinking about how AKB48 members usually fall sick after a handshake session due to the amount of germs exchanged, I would say this is a brilliant way to spread the flu bug.
But looking at the sales turnover of the AKB franchise, it definitely is worth targeting the otakus. Basically, the kind of businesses that make money is either those that target women or those that target otakus.
If you're interested in taking a look at the artwork, or you would like to participate in the voting, or if you have a clicking-disorder that you would die if you don't click on every link you see, click here.