If you've been following Music Station for the past few years and wondering why, in spite of releasing multiple singles and albums, Hamasaki Ayumi hasn't been appearing on the program, the reason is that she had been banned.
In September 2011, when Music Station held its 25th anniversary 3-hour special live performance, Ayu was scheduled to be one of the performing guests for the live broadcast. But for some reason, she cancelled it at the last minute. The program staff and Avex announced that it was because she contracted pharyngitis (or sore throat) that she wasn't able to board the plane back to Japan. But Ayu apparently came out and said that she wasn't able to return because the program staff got her air ticket wrong causing trouble for the program and Avex. It appears that part of the reason why Ayu declined to appear at the last minute was because the "reserved seat," deemed important on the program, was given to AKB48 instead of her.
This infuriated both the program staff and Avex who decided to take action to punish her for the troubled caused. Promotional fees for her new singles, albums, concerts, etc. were drastically reduced and she was banned from Music Station for an indefinite period of time.
2 years and 2 months later, Ayu is engaged to an American student and as a condition for lifting the ban, the staff of Music Station requests that the 2013 Super Live be the first TV appearance she performs in since the engagement.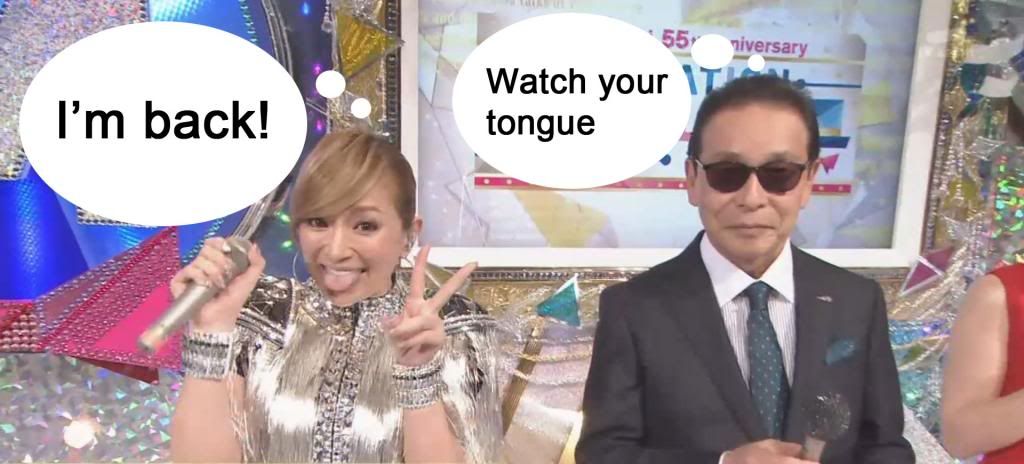 She still seems to be as good an entertainer as she used to be but her voice sounded a little different. In any case, now that the ban has been lifted, we might see more of her in 2014.