There are 1,728 municipalities in Japan. Including the 23 wards, there's a total of 1,741 self-governing bodies. A research was carried out to find out the largest seismic intensity in each of these 1,700-over areas in the Heisei era (1989 to 2019).
In the 30 years of the Heisei era, there were 5 instances when seismic intensity reached its largest scale of 7. These include the Great Hanshin earthquake in Kobe in 1995, Niigata in 2004, the Tohoku triple disaster in 2011, Kumamoto earthquake in 2016, and the most recent Hokkaido earthquake in 2018.
Among the 5 major earthquakes, only the 2011 Tohoku earthquake was of the oceanic trench type, which explains the reason for the tsunami that followed. The rest were inland fault type earthquakes. Nevertheless, the inland quakes caused much damages as there wasn't ample time to send out warning signals before the quakes can be felt.
Throughout the 31 years, all municipalities across Japan experienced seismic intensity of at least 1. For some lucky areas, it simply stopped at 1, and they are the villages of Hokkaido's Takinoue and Nishiokoppe. 10 others experienced the largest seismic intensity of 2. Apart from Gifu prefecture's town of Hichiso, the remaining are all in Hokkaido. It seems that historically, there's always been very little seismic activity near the Sea of Okhotsk and seismic intensity has always remained low.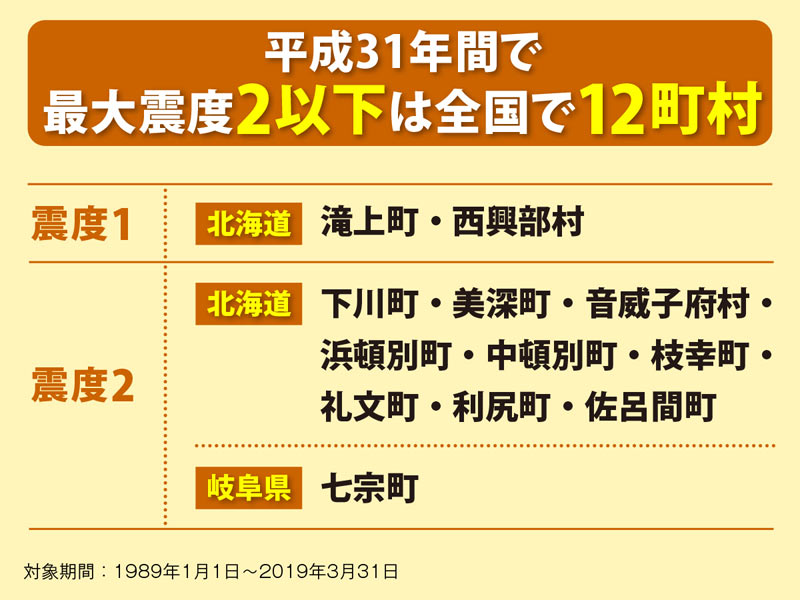 List of 12 municipalities with low seismic intensity during the Heisei era.
In areas where earthquake seldom happens, there is the tendency for strain to build up and eventually lead to a catastrophic earthquake someday. However, the northeastern areas of Hokkaido doesn't have much active fault in the first place, which explains the low frequency of earthquakes. But is Hokkaido really that safe?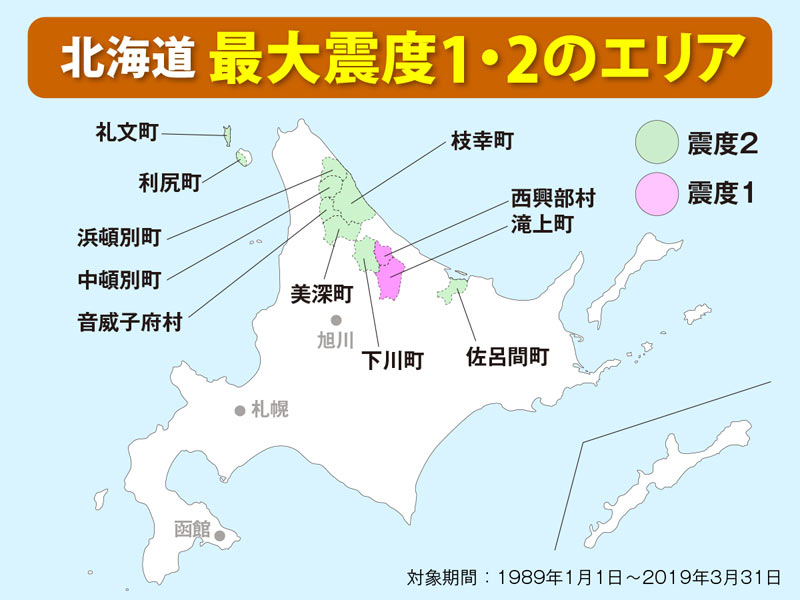 Map of municipalities in Hokkaido with very low seismic intensity during the Heisei era.
In December 2017, the government announced that the Kuril–Kamchatka Trench could result in a major earthquake of magnitude 8.8 and above causing a major tsunami. In this area, a large earthquake struck some 400 years ago and a tsunami over tens of meter in height hit the southern part of Hokkaido. Such a catastrophe is predicted to have a 7-40% chance of reoccurring within the next 30 years. If it does happen, it could hit the northeastern areas of Hokkaido badly as well, but inland municipalities further away from the sea should face little to no damages.
While Hichiso of Gifu hasn't experienced any major earthquakes during the Heisei era, it is very close to the Atera active fault line and there's a 50-60% chance a major earthquake would hit the Tonankai and Nankai sea within the next 30 years.
So in conclusion, if you're not bothered by the severe cold climate of northeastern Hokkaido, perhaps that could be a good place for you to live.