I have been blessed to have a cousin who cares enough about children as much as I do, or even more to try make a difference in every way he can. He holds 2 world records in the Guinness Book of World Records and has travelled the world to bring happiness to children through drawing.
The March 11th quake and tsunami in Miyagi left indelible marks in the northeastern prefecture of Japan and many efforts have been made not just to help rebuild the cities, but also the spirits of the people. My cousin has been travelling to various countries, especially those that had experienced major quakes, to draw pictures with these children to encourage the people of Miyagi. He calls it Project: Yume, where yume means dreams in Japanese.
Having contact with schools here in central Japan, I decided to do my part and got some students to draw pictures for the children of Miyagi with the help of the Arts & Crafts teacher.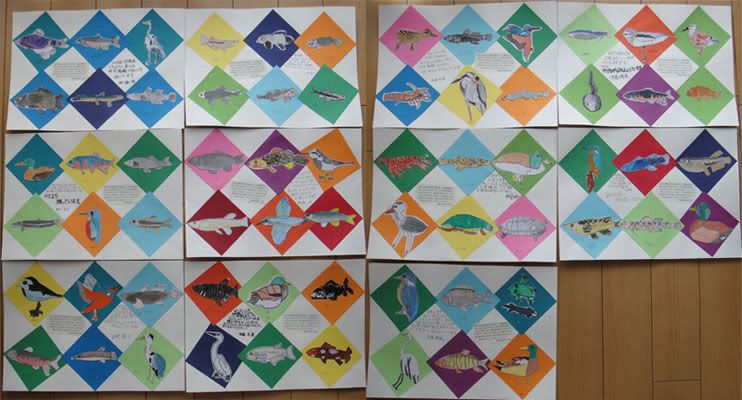 Most of the pictures my cousin has collected are pictures of the dreams of children to tell Miyagi never to give up on their dreams. These pictures I've collected are, however, a tad different. It may seem like a regular science project with pictures of birds and fish. But, behind these pictures is an incredible story that sends a rush of warmth in me and moves me each time I look at them.
Near the school of the children who drew these pictures is a river that was so polluted some 10 years ago, there was no sign of life in it. The people of the area rolled up their sleeves, took time after their work to step into the river of mud, weeds and trash and cleaned the entire river with their hands. And it was the efforts of everyone that today, life has returned to that very same river and has become a habitat of the animals in the drawing.
I couldn't put it any better than my student: あきらめなければ、前よりも、いい町ができるはずです。それをかげながら、応援しています。
As long as you don't give up, a better life awaits you.
From the children, for the children.